Regents of Jülich-Kleve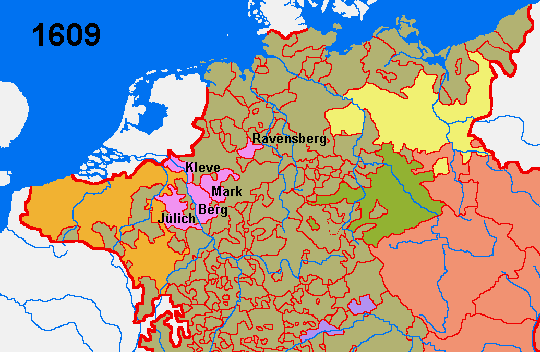 = Jülich-Kleve-Berg
= The Spanish Netherlands
= Saxony
= Pfalz-Neuburg
= Brandenburg
= Austria
= Other parts of the Holy Roman Empire
The state of Jülich-Kleve emerged in western Germany at the end of the middle age as a result of inheritances and marriages, which united the duchies of Jülich, Kleve and Berg as well as the counties of Mark and Ravensberg. But even though it was one of the most important states in Germany it is most famous for the international crisis it caused when its ruling dynasty became extinct 1609. A crisis that nearly resulted in a full scale European war. This was because of claims made by the catholic ruler of Pfalz-Neuburg and the protestant princes of Brandenburg and Saxony to inherit Jülich-Kleve. The outcome of the inheritance dispute would seriously effect the power balance in Germany and the Habsburg emperor played also an important when he in alliance with Saxony tried to gain control over Jülich-Kleve, that would in its turn influence the war between Spain and the Netherlands.
The assassination of the French king 1610 prevented a full scale war, but a war over the succession was still fought 1613-1614 between Pfalz-Neuburg and Brandenburg. This ended with a partition of the territories, which was confirmed in a treaty 1666. Brandenburg then acquired Kleve, Mark and Ravensberg while Pfalz-Neuburg got Jülich and Berg.
1423-1437
1437-1475
1475-1511
1511- (1539)


Adolf (Berg from 1408)
Gerhard VII
Wilhelm IV
Johann


1391-1394
1394-1398
1398-1448
1448-1481
1481-1521

Adolf III * (Kleve from 1368)
Dietrich
Adolf IV
Johann I
Johann II
Jülich-Kleve-Berg
(also counts of Ravensberg and Mark)
1521-1539
1539-1592
1592-1609
1609-1614

Johann III (Jülich-Berg from 1511)
Wilhelm
Johann Wilhelm
Succession disputed


Jülich-Berg


1609-1614
Philipp Ludwig
1614-1653
Wolfgang Wilhelm
1653- 1690
Philipp Wilhelm
1690-1716
Johann Wilhelm
1716-1742
Karl Philipp
1742-1799
Karl Theodor
1799-1806

Maximilian I Joseph


Grand Duchy of Berg


1806-1808
1809-1813

1814-1945
1945-

Joachim Murat
Ludwig Napoleon

Part of Prussia
Part of Nordrhein-Westfalen
Jülich was conquered by France during the Napoleonic wars and was formally ceded 1801. Berg was later expanded and elevated to a grand Duchy, which was given to the French marshal Joachim Murat. When Napoleon later appointed him king of Naples 1808 did Napoleon's nephew Ludwig Napoleon become new grand duke of Berg. After the fall of Napoleon was the grand duchy dissolved and its territory was given to Prussia by the congress of Vienna.
1101-1132
1132-1160
1160-1180
1160-1189
1189-1218
1218-1247
1247-1259
1259-1296
1296-1308
1308-1348
1348-1360
1360-1408
1408- (1437)
1423
Adolf III
Adolf IV
Eberhard von Mark
Engelbert I
Adolf VI
Heinrich
Adolf VI
Adolf VII
Wilhelm
Adolf VIII
Gerhard (also Ravensberg 1346-1360)
Wilhelm (also Ravensberg 1360-1404)
Adolf
Succeded by Jülich-Berg
1003-1029
1029-1081
1081-1114
1114-1127
1127-1138
1138-1142
1142-1176
1176-1207
1207-1219
1219-1277
1274-1277
1277-1297
1297-1328
1328-1361

Gerhard I (count of Jülichgau)
Gerhard II (count of Jülichgau)
Gerhard III
Gerhard IV
Gerhard V
Gerhard VI
Wilhelm I
Wilhelm II
Wilhelm III
Wilhelm IV
Wilhelm V
Walram
Gerhard VI
Wilhelm VI (I)

1361-1393
1393-1402
Wilhelm II
Wilhelm III
1402-1423
1423

Reinhold
Succeeded by Jülich-Berg

c. -1061
c. 1061-1092
1092-1119
1119-1147
1147-1172
1172-1193
1193-1260
1260-1275
1275-1305
1305-1311
1311-1347
1347-1368
1368- (1394)
1391

Rütger I
Rütger II
Dietrich II
Arnold I
Dietrich III
Dietrich IV
Dietrich V
Dietrich VI
Dietrich VII
Otto
Dietrich VIII
Johann
Adolf *
Succeeded by Kleve-Mark

1170-1199
1199-1249
1218-1241
1249-1277
1277-1308
1308-1328
1328-1347
1347-1391
1377-1406
1391-1394
1394-1398
1394-1448
1398-1461
1448- (1481)
1461

Friedrich I
Adolf I
Eberhard I
Engelbert I
Eberhard II
Engelbert II
Adolf II
Engelbert III
Dietrich I
Adolf III (also Kleve 1368-1394)
Dietrich II
Adolf IV (Kleve-Mark)
Gerhard
Johann I (Kleve-Mark)
All of Mark becomes a part of Kleve-Mark

1072-1082
1082-1144
1144-1170
1170-1221
1221-1249
1249-1306
1306-1328
1328-1346
1346-1360
1360-1404
1404-1428
1428- (1475)
1437

Hermann (count of Calvelage)
Hemann I von Calvelage
Otto I
Hermann II
Ludwig
Otto III
Otto IV
Bernhard
Gerhard I (also Berg 1348-1360)
Wilhelm I (also Berg 1360-1408)
Wilhelm II
Gerhard II
Succeeded by Jülich-Berg